Z-Car Parking at the Event - Updated from previous website info on 04/19/10
We estimate that approximately 75 to 100 Z-Cars will be able to park directly in the Motorsport parking lots.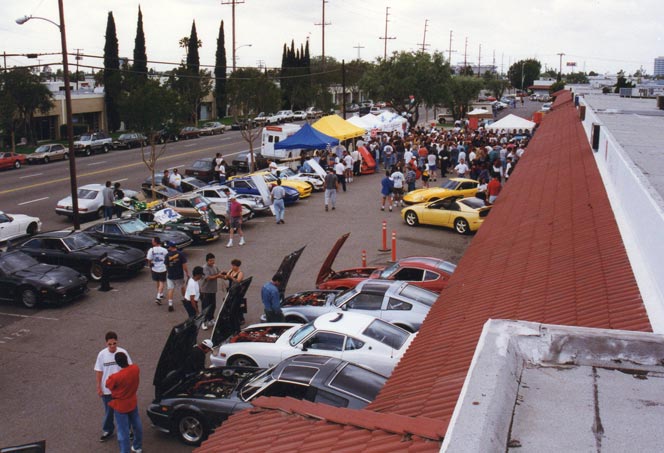 The front Motorsport lot
(shown in the image above from 1997) will be part of the West Coast Nationals Event History display, and will feature first place award winners from previous shows. We expect to fit approximately 25 award winners in the front lot. Many spots are already confirmed, so we ask all former first place award winners who plan to bring their Z, to email
president@motorsportauto.com
with your Z information as soon as possible, so we can get you on the list. Due to the limited space only first place Z-Car West Coast Nationals award winners can sign up at this time, and must be confirmed in advance. You will need to bring your trophy with you!
For the remaining 50 to 75 display spaces
in our lots, around the different parts of the event, they will be first come, first served. Look for the signs and directions as to where to line up on Collins or Enterprise. We hope to begin parking cars around 8:00 or 8:30. The only requirement is that you drive your Z!
For the 100+ parallel parking spaces
on Collins Avenue and Enterprise Street, we respectfully ask that these spaces also be reserved for those who bring their Z to the event. We ask that those bringing vehicles other than Z Cars to please park in the surrounding lots and areas, and to please be respectful of our neighbors.
Hard to beat free food (don't forget to sign up), sunshine (weather.com says sunny and 72), a Z Garage sale (which might have just the old stock part you have been looking for, on the cheap), event specials in the showroom, a pictorial history of the first 14 years of the West Coast Nationals, awesome Z-Cars on the dyno, and awesome Z-Cars all over the place (could be hundreds). We look forward to seeing you there!