Greetings
Invidia catbacks -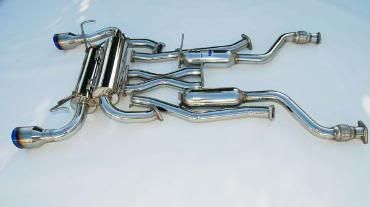 Invidia Gemini Rolled Titanium Tips Catback for 370Z
The Invidia Gemini Cat Back for the Nissan 370z features a fully Robot Tig welded Design. Made out fully out of 304 stainless, the Invidia is of the Higest Quality.
Piping Dia.:60mm
Tips Dia.: 101mm
Price - $889
Invidia High Flow Catted Test Pipes for Nissan 370z
Invidia calls them test pipes, but they are also called race pipes. Call them whatever, but know this: Putting these in place of your cats means one thing...power. Invidia also makes a high flow cat version to free up extra horsepower while remaining street legal. Invidia makes them from polished T304 stainless steel tube and welds on heavy duty flanges for perfect fitment. Test pipes are for off-road use only.
Race Pipes = $190
Catted Testpipes - $462
Kiazen Tuning LLC
184 Great RD
Acton MA

Email - sales@kaizentuning.com

Phone - 978 266 9900
We accept - Visa, MC, Amex, Discover, and Paypal