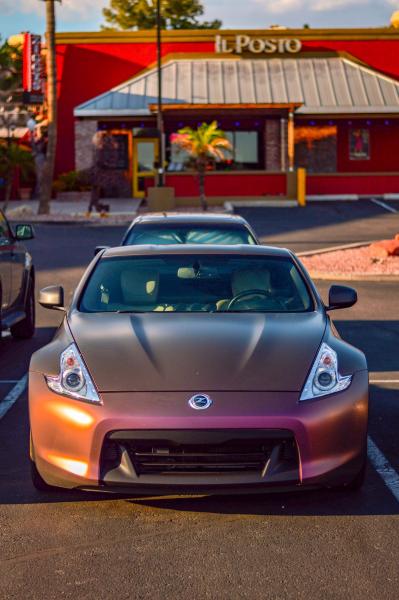 370z:
Purchased from Mercedes Benz of Chandler in February of 2017. Bought when it had 94,000 miles on it. currently at 115,000
It is a 7-speed automatic (lame, I know). This is my daily driver for college.
-Nismo Spoiler
-Swift Spec R Lowering Springs
-Berk High Flow Cats
-Muffler/Resonator Delete
-Z1 Post MAF Tubes and K&N Filters
-Recent Battery replaced
-100,000 mile spark plugs, and full differential/transmission serviced
-Very recent new headlights installed as well. So shiny and clean.
-Had 2 rear tires replaced within the week 9/9/18
-Had 2 front tires replaced 9/27/2018
Will be tuned soon also
The car does have a CLEAN title.
A few weeks after I got the car (I was in high school) I had a minor accident where I hit a trailer hitch of a car in front of me going about 5mph in stop and go traffic. I had the bumper replaced, realigned, and new headlights all put in (OEM Parts) and all work professionally done at Impact Auto Body. I have all the paperwork and no other accident or anything has happened since then. Dumb teenager me :/
I have taken very very good care of the car. Interior is a solid 9.5/10, exterior is a good 9/10 (10/10 without the wrap)
I have the car wrapped in a Matte Aurbergine Bronze. The color is amazing, but if you wanted to take the wrap off itís the Original pear white and the paint is in magnificent shape. I have lots of pictures pre and post wrap.
My reason for ďsellingĒ or hopefully trading + cash is because I recently learned how to drive manual and I want to get one, but I love the 370z, so thatís why I want to stay in the game. My car has no issues (other than having high miles compared to other Zs)
---
300zx:
Arizona car itís whole life.
0 rust.
0 accidents.
Everything completely stock except for the radio.
Paint 9.5/10, interior 9.5/10, exterior as whole 9.5/10
105k miles.
5 speed manual.
Recently had convertible top parts fixed, however 2 bolts are missing from one of the latches. The top still works and goes up and down, just thought that would be worth mentioning.
IDEALLY I WOULD LIKE:
40th anniversary
manual convertible
manual coupe w tech package
**I am writing this from my mac and I put the link to the photo album I started. I'm not sure if it works. I do not know how to get a photo url from the photo app on my laptop sorry.
Nissan 370Z Forum - iKylei's Album: My Z's